The Answer is: Natural Medicine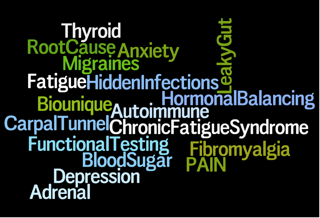 Functional Medicine
- involves addressing the root causes of issues within the body in order to restore health - not just masking your symptoms with the latest fad or trendy supplement. At this office, we utilize scientific, state-of-the-art laboratory testing, thorough physical examinations tailored to diagnose and treat conditions commonly seen in practice including allergies, weight management, chronic pain, fatigue, fibromyalgia, Type II Diabetes, female concerns, endocrine imbalances, digestive disorders, cardiovascular, asthma and immune system dysfunction including autoimmune disorders. It is a very comprehensive and integrated way of looking at health problems that helps us to either manage or correct problems that may not have been able to have been addressed with other methods. Dr. Hillis accurately diagnoses and treats internal disorders and provides comprehensive natural solutions by virtue of his training with the American Board of Chiropractic Internists.
Getting to the Real Cause of Your Problem
We consult with patients who come from the Southwest Florida area as well as from throughout the United States. They've often been told that nothing more can be done for their condition or that their labs are normal or to continue with months and years of repeated testing that seems to go nowhere. We make it a point to be thorough and straightforward here, with "two feet on the ground", giving you sensible information about your prospects for managing or improving your condition. We're also very careful to not fall into the trap of practicing "green medicine", in which the doctor simply replaces the drugs you're on with the latest fad nutritional product. We are committed to finding and dealing appropriately with the underlying disturbed systems that have brought you into a state of ill health.
Common Conditions Treated Here
Female Hormone Inbalances: Natural Hormone Replacement Issues, Menopausal Symptoms, PMS, and PCOS
Autoimmune Diseases: Natural management and support for Hypothyroidism and Hashimoto's, Multiple Sclerosis, autoimmune intestinal syndrome and Irritable Bowel Disorders
Overeating and weight disorders
Chronic Fatigue, Brain Fog, Memory Loss, Fibromyalgia
Traumatic Brain Injury and its aftermath
Food Sensitivities and related symptoms affecting the whole body
Headache, TMJ, Craniofacial disorders
Digestive issues
Diagnostic Tests and Techniques
Complete Blood Chemistry evaluations related to your condition
Autoimmunity screening and testing
Food and Environmental Senstivity Testing
Gluten Sensitivity, Intestinal Damage, and Genetic Testing
Neurotransmitter Urinary and Semantic Diagnostic testing
Female and Male Hormone Evaluations
Cortisol Stress Hormone Testing
Organic Acids Profiles for Metabolic Assessments
Comprehensive Digestive Stool Analysis
Estronex Testing for Female Hormone Safety
Nutritional Deficiency Testing including Vitamin C, D3, B12/Methylmalonic Acid, Folic Acid, RBC Magnesium, and Toxic Metals
Epstein-Barr, Lyme's, Advanced cytokine testing, CytoMegaloVirus testing, and hidden/stealth Infections
Chronic Genitourinary disorders, e.g. cystitis
Irritable Bowel Syndrome, Colitis and Crohn's
Osteoporosis and bone health
Honest Expectations
Although many patients respond very well in a relatively short period of time, some conditions are not really curable and need to be managed intelligently for optimal outcomes. We hope to guide you in a sound, scientific, and ethical manner in all of your healthcare concerns. Our patients understand that optimal outcomes ordinarily involve their proactive involvement with willingness to engage in meaningful lifestyle and dietary changes in order to improve their chances for positive results without resorting to pharmaceutical approaches. Our patients also understand that we neither prescribe drugs here nor do we "un-prescribe" drugs here. We have no problem with co-management with our medical colleagues when appropriate. We strive to offer you the best of natural healthcare here.
Dr. Daniel P. Hillis, D.C., DABCI
Naples Chiropractic Physician and Naples Natural Health Doctor